Villefranche-sur-Mer… I love this ville!
Villefrache-sur-Mer is a romantic little village perched on the hillside overlooking a crescent-shaped crystal blue and turquoise bay of the Mediterranean dotted with beautiful sailboats.  It's the breath-taking scene that you see in artists paintings, but this is real.   The people came to live in this village in the late 1200's when the Duke of Provence offered the olive farmers tax-free status if they would move down from the hillside and live near the sea, providing protection from the Saracen Turks.   Now days, people come to Villefrache-sur-Mer to stroll the streets, shop in the quaint boutiques or to relax in an outdoor café overlooking the sea.  I've come to do my laundry. 
And there's a good reason for that.  I've been trying to find a laundry since I've arrived in Antibes.  I found one where the lady did your clothes for you, but it was way tres cher (too expensive, literal translation 'very dear') for moi.  Yes, it would be 'very dear' for me to have some clean clothes that don't smell, but it was just way too expensive.  Ever since I've been using Tom's Natural Deodorant without the aluminum chloride that may be linked to Alzheimer's I've noticed something about myself that I was unaware of before.  Sometimes I have a subtle hint of body aroma.  Or… when I walk around in the hot sun in the south of France and happen to get a little stressed over something, it turns out I have intense body aroma!   Last week I did an entire load of laundry by hand in my kitchen sink and then dried them on hangers in my apartment.  Not going to do that again.  It took forever and my hands hurt from all that squeezing.  Plus I had clothes drying all over the place for the next few days.  I started looking for a laundry with diligence recently. And still couldn't find anything.  One was closed for the week, another was closed yesterday and not open Sunday, another was closing and it was too late to begin washing and also closed Sunday.  So nothing before Carole and Bob came.  Darn it.  I wanted to have all of this done before they arrived.   
I woke up this morning and was thinking about what I'd do today.  I thought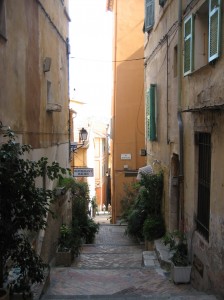 I could hang around Antibes, maybe go to the Carrefour store to get some last minute things, but that didn't excite me.  Then I remembered how much I liked Villefrache-sur-Mer when I had seen it from the train the other day.  I looked in my guide book and saw they had an antiques market today.  Perfect!  I could check that out to see if it was something Carole would like to go to when she's here.  Then I saw they had a laundry!  And open on Sunday!  Great!  I gathered up the most important and most highly body-scented clothes, filled two market bags (the plastic bags with handles) and I was on my way! 
I stopped by the boulangerie (bakery) and got five- way too many- of the best little pastries I've had since I've been in France.  They're a basket-woven moist, chewy pastry dipped in chocolate.  They're not overly sweet and with a little bit of a coconut taste.  Then I went to my favorite place for coffee, Brasserie of San Marco, where their coffee tastes like Starbucks' café Americana.  They were closed.  Bummer.  Lots of things are closed on Sunday in Antibes, which is one of the reasons I want to be out and about today.  Although they do have a nice market that's always lively and fun.  I'd get some coffee at the train station.  When I got there I was surprised to see that the Antibes Gare (train station) doesn't have a snack bar.  Most do.  But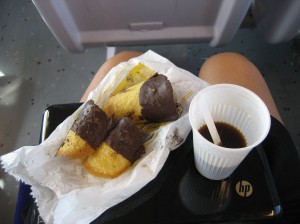 they did have a coffee machine.  I got the only black coffee with sugar choice, an espresso.  Look what came out of the machine!  I little teensy bit of coffee in a thin plastic cup with a plastic spatula dunked into it!  No sleeve to keep your hand from burning.  Just this teeny little amount.  I sipped it and it was surprisingly good!  I poured a little water in it from my water bottle, but wouldn't have needed to.  It wasn't too strong to drink as it was.  Then I had a breakfast on the train fit for a queen!  My new favorite pastries and delicious coffee.   And on my way to a wonderful, little seaside town.  How very, very nice. 
I got on the train headed towards Villeneuve.  I thought that was the French spelling of Vetimiglia, but it turns out it's a little town just north of Antibes.  Luckily for me, it wasn't in the opposite direction.  The train stopped in Nice.  Villefrache-sur-Mer is a few stops past Nice and I really didn't pay attention at the Nice stop because I assumed we were just stopping to let people get on and off.  I was typing away on my computer when suddenly I realized it was real quiet.  I looked up- all the lights were off and there was nobody on the train!  What the?  I didn't realize that EVERYONE had gotten off!  And that no one else came on.  I gathered up my bags of dirty clothes, my computer, glasses and purse and scrambled myself off.  I don't know what would've happened had I stayed on. 
I went into see what voie (platform) the train going to Villefrache-sur-Mer would be leaving from.  Voie  F.  Good enough.  I went out to voie F and there was an old rickety train.  I guess since it's such a local stop we don't get the fast, sleek new trains.   I got on.  Warm seat, someone had obviously just gotten off.  Again, I realized I was the ONLY one on the train?  How the?  I waited and finally a few stragglers meandered their way on board.  But they looked hesitant.  Then they got off.  Why were all the people just standing on the platform staring and the train, but no one was boarding?  Next I heard the conductor outside going down the train closing doors and yelling something.  Whoa, time to get off for sure.  Everyone was still standing on the platform looking at the empty train.  There was a TV-style screen blinking with a message.  "Interdire Monter".  Hmmm… well, wonder what that could mean?  I got out my English/French dictionary.  Interdiere means PROHIBITED!  What???  And interdire means as far as I could tell, to climb or get on.   Ok, getting on this train is PROHIBITED!  Rather a strong word, don't you think?  Who knows what they had been announcing on the loud speaker.  They only announce in French, never English.  If the hazmat guys came with their fumigation apparatus I was going to get real worried.  As it was, the workmen climbed on the side of the train and rode it to somewhere down the track.  Who knows?  I just hope I don't get sick with something… some horrible viral agent that got loose on the train before its last stop. 
Eventually they changed Voie F to Voie G and a normal train came screeching in and away I went to Villefrache-sur-Mer.  What an absolutely amazing little place!  If you're ever in the south of France, Villefranche is one
of those places you have to stop and see.  Just charming.  I guess the Duke wanted to really entice those olive farmers to move down to the sea front, because someone built the most adorable Old Town village for these guys… charming narrow streets all winding down to the sea with tall straight homes in pastel colors.    If you ever wanted to see how a town could be built into a side of a mountain, you have to see Villefranche.  Take a look at the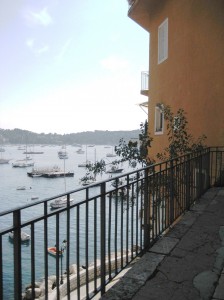 photo to the right.  That orange house which is now a very prime piece of real estate overlooking the Mediterranean was once some poor guy's house in 1295 who was right on the front line of defense.  Funny how property values change.  Today, the shops and cafes make it a place where you just feel lucky to be there and experience!
I found the laundry, a little shop with four washers and two driers.  The only problem I had in there was that the place where you put in your coins was on the opposite wall than the machines.  One box for all six appliances.  It took me a while to figure that out since it wasn't on the machine itself.  I put in my wash, walked around the antique market awhile
(40 minute cycle) and then put the things in the dryer and they were finished in another 15-20 minutes.  Finis!  (Finished).  How lucky was that?  Now Bob and Carole won't be looking all over my apartment for the dead animal they thought they could smell. 
Then I went to one of the cafes overlooking the sea, Le Cosmo and had what I think is the best lunch since I've been in the Riviera.  Maybe except for the fabulous pasta I had in Ventimiglia, Italy the other day.  It was white meat chicken pieces marinated with honey and ginger in a salad made mostly of endive and bean sprouts.   Yum, yum.  So, so good.  And a glass of red wine.  I wouldn't have gotten the red wine except that the two wonderful gentlemen who asked me to join them at their table for lunch offered to buy me a drink as they were drinking their rose wine.  They ended up buying me my entire lunch- but that's not what made it special.  They were so much fun to talk to!  They spoke English and laughed easily and heartily, something the oh-so-refined French just don't do in first-time (or second or third-time) meetings as far as I can tell.  These guys lived in the fabulous Provincial town of Aix and have a large wooden sail boat that they sail around Europe.  Both had originally been from Amsterdam.  They had made a fortune it seems in several different businesses and they had a wonderfully refreshing view on life.  It just felt light and fun to be in their presence.  During the conversation I could see that they were a couple who really admired and appreciated each other and I'm not sure why they asked me to join them- not for the possibility of hooking up, for sure.  But they did ask me to join them in St. Tropez at the end of the week, during the famous classic wooden sailboat races.  But I have Bob and Carole coming and they really admire and appreciate each other too (and I'm not entirely kidding) and are equally as fun to be with, so I'll take a rain check. 
By the way, look how clear the Mediterranean is here, like in most of the Riviera.  The water is about eight feet deep in this picture.  It's so clear you can see not only the bottom but also little black fish swimming around. 
I got back to Antibes with no problems.  I was really tired though.  Lugging two bags of laundry all around a town that's built on a hillside gets heavy, especially with my computer.  Why I thought I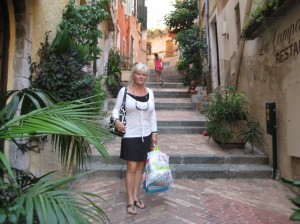 should take my computer on a sight-seeing/laundry day is beyond me.  I was bushed!  It was all I could do to walk a couple blocks out of my way after getting off the train in Antibes to exchange a movie.  I had bought one there the other day- rentals are almost the same price as a purchase for the titles on sale, and got it home and voila!  All French, no English.  I entertain myself with movies here because I can actually understand what people are saying, so you can imagine my disappointment when I realized I had chosen to purchase a non-English speaking movie.  I exchanged it for some other shallow chick-flick which I'm sure I'll enjoy watching.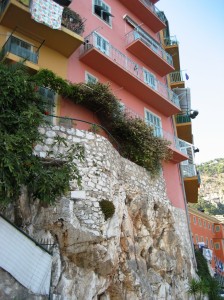 I came home and finished getting everything ready for Bob and Carole.  They're arriving Monday morning at 8:20 which means I have to get to the Antibes train station by 7:00 to allow myself enough time to get to Nice, then bus it over to the airport.  Wouldn't it be awful if I overslept and left them standing in a foreign airport all by themselves with no idea where to go?  I'd never do that.