Let's go shopping in Antibes!
I found it!  I finally found the clothing market.  But it keeps moving away.  I had heard that Tuesdays, Thursdays and Saturdays were market days.   As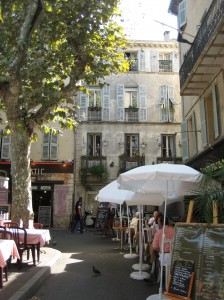 you might remember, I tried to locate the clothing market the first Thursday I was in Antibes and I went to the areas where it was supposed to be set up and … nothing.  I walked by a small flea market near my apartment, but it wasn't the clothing market I had heard so much about.  It's never been real clear to me, however, exactly where the market is supposed to be.   It's described as being in several Places… Place National, Place Audiberti and winding through the streets.  The first Thursday someone told me that the market had already been taken down but it would be back on Saturday, right in the very square (Place) where I was standing.  Now, that was good news.  I knew where and when it was to be.  I made sure to wake up early on Saturday so I could get to it.  Disappointment.  Again, I walked by the little flea market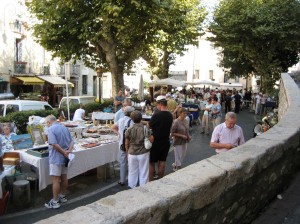 by my place, pictured at right, then around the winding streets to where I had been on Thursday, and found a market.  All the tables, and goods and people, but nothing I was too interested in.   Where is all the clothing?  Non, non, non!   The clothing market is on Thursdays!   I enjoyed the antiques and odds and ends but was disappointed that I'd have to wait till Thursday to get some new French threads. 
On Thursday, I was ready!  I got up extra early and out the door.  I walked to where the antique/flea market had been, again going by the little flea market near my place that seems to be there most every day, past the huge food market near me that is there every day but Monday, some days more lively than others, to Place National, where I was told the clothing market would be.  I saw stalls of merchandise and got excited.  Then let down.  The few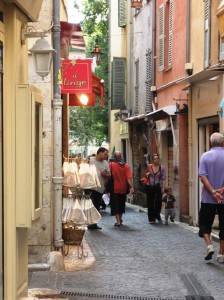 clothes I saw seemed to be priced fairly high, and were sprinkled in with other things for sale… antiques, material, handbags, belts, jewelry.  It was interesting and festive, but not what I was expecting.  I walked around looking at things but wasn't too impressed so I went to some of the little shops that line the streets.  I spent a lot of time looking at sweet greeting cards in several shops, trying to choose a few more to send to my family.  I dilly-dallied in some cute little toy stores too, just generally shopping through my disappointment.  I walked the several blocks towards the post office to buy some stamps and send my cards and THERE IT WAS!  Stalls and stalls of all sorts of great clothing!  I stopped at the first stall and was enthralled with their belt selection!  All sorts of wonderful belts, with the Parisian fit, the kind with a gentle curve that sit low on the hips and makes me look so French!  And for $5!  Fabulous!  I couldn't decide which ones I liked best and finally chose two for me and one for Christine.  I wanted to find some shirts like I see everyone wearing- they're loose fitting, made from a special knit cotton and hang in a way that is very different from what I've seen in the states.  I've seen them here in the boutique shops.  They're made in Italy and are fairly expensive.   I started to move to the next stall… there were dozens and dozens of stalls… I was so excited… and then everything went into motion!  All at once all the market people began dismantling their tables and canopies and everything was disappearing!  Right before my eyes!  What the???  How could this be!  I had wasted over an hour meandering in and out of the little shops looking at greeting cards, only to miss market day!!!  I hurried as fast as I could and tried to grab a glance at anything that wasn't being hustled away.  I saw a shirt- perfect for $8 and bought it but by then the market people were getting irritated if you were in their space during takedown.  How did I miss it!  No one told me the clothing market was hidden behind the streets around the other side of the post office.  As I was leaving, I asked one seller the hours of the market.  He told me that they would be set up in Antibes, just on the outskirts of Old Town on Saturday.  I thought I understood the area he described.  That gave me some hope that I'd be able to see it again before next Thursday.
Saturday- I walked around the edge of town where I thought the clothing market would be and didn't see anything.  I went to the cell phone store to buy more credits and on my way back decided to take a different route.  There, on the southwest section of town, in a quiet area where I never would have expected to see the market, I came upon the stalls winding around the small streets.  It didn't look like quite the same inventory, but it didn't matter.  They were already in the process of dismantling!  It happened again!  Right when I got there it disappeared!  Unbelievable.  But I decided that since the tops I like are made in Italy, maybe I should just hold off.  I want to go to Italy for lunch one day- that sounds so cool to be in France and go to Italy for lunch!  The little town right across French border, Ventimiglia, has a big market on Fridays.  I'll go then.  I might have a greater selection and they might be even better priced.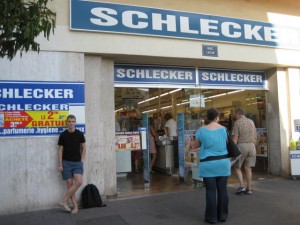 Now… my favorite store in all of Antibes….  drum roll……   Schlecker!  Out of all the quaint, little interesting shops in this adorable town, my favorite store is Schlecker, the Dollar General of the south of France.  That's right!  It looks like Dollar General, it's priced like Dollar General and I think I can almost smell the Dollar General store in Bethany Beach, Delaware!  Right smack in the middle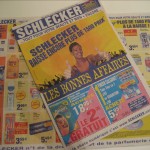 of all the little boutique shops, it sits, totally comfortable and confident, with its big sale banners slapped all across its front.  I had checked the price of my shampoo at one of the fragrance-scented specialty shops… $9.00!  Schlecker… on special this week at $2.65!  Yippee!  Toilet paper at the cute grocery store- $4.00.  Schlecker… $1.65!  Wine at the grocery store with my 50 cents off coupon was a bargain for $3.50.  At least I thought it was till I saw bottled wine with cork tops at Schlecker for $1.79!  That's Cotes du Tarn white or red.  Right beside the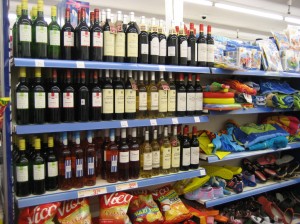 beach towels and swimming floaters.  And now… get this… remember the $57 US lipstick I saw at the cosmetic boutique?  I found the perfect shade in Schlecker in a wonderful brand for $3.49 Euro!  I love this store! 
I still enjoy the specialty shops.  I like the smells- they have the fresh scent of an expensive spa.  And there's an elegance to the presentation and lighting that I enjoy.  And of course the shop owners greet you with a cheery, sing-song Bonjour!  I meander around in the boutique shops and touch things and sometimes pick things up and put them back down and then touch some more things, until the saleslady begins to get that tight, snappy look.   But with the exchange rate being about $1 Euro to $1.5 USD, I've gotta stay friends with Schlecker!  Too bad they don't have the Italian-made cotton knit tops I'm trying to find. 
Note:  Just by chance, after I finished proof reading what I wrote above, I picked up Rick Steves' guidebook to The French Riviera and a line jumped out at me…  "Except in department stores, it's not normal for the customer to handle clothing.  Ask first if you can look at an item."  Hmmm… so there's the problem.  How will I ever learn everything?