Doing it all in the south of France!
Carole and Bob went home.  It was fun and busy.  We had a week of whirlwind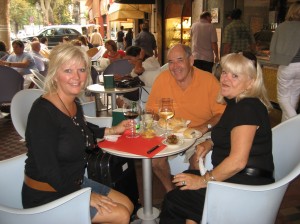 activity- we did Monaco with all its glitz, Cagnes-sur-Mer and the Renoir museum, little Juan-les-Pins on the hokey petite train, and boisterous Nice.  We visited quaint, charming St. Paul de Vence and could feel the history even through the heavy layer of commercialism.  Somehow the little shops had a charm of their own.  I guess it's fairly easy to pull off when you're housed in a 400 year-old stone building with the right decorative lighting and beautiful 2 feet wide stone walls on a cobblestone street.  And we did Ventimiglia.  Wonderful, noisy, assertive, Italian, heart-warming Ventimiglia.  If you've ever been to this city just across the Italian border, you know what I mean.  There is a part of you that will always feel an attachment. 
We did so much when Carole and Bob were here.  We did take the time to lie on the beach, the first time in over a month I was on the beach.  I'm not sure why- it was pleasant enough.  I love it here which is why I wanted my sisters and family to come so badly.  I wanted them to experience all that I've seen and the things I appreciate and enjoy so much.  There are so many new and different sights and sensations here- I'm in awe.  And I've had time to feel the rhythms of the towns- as individual as its people.  It's hard to let all of that soak in in one week, but I think Carole and Bob felt a touch of the same appreciation as I have.  I hope so.   
Wonderful food, good drinks, and fun things to do and see.  A very nice week that will always bring back pleasant memories. 
Monaco-
 An absolutely beautiful city… perched against a mountain.  The city runs lateral AND vertical which is very confusing.  We couldn't get out of the train station to the water.  We knew we were underground, as we were on level -14.  So we did what was natural- we went to level 1 and stepped off.  We had panoramic views of the city, the Mediterranean and the mountains.  But we were obviously nowhere near the water where we wanted to have lunch.  Duh.  The train level empties out into various levels; it's hard to have any idea where you are in relation to where you want to be.  Truly- a vertical city. 
But we did find our way to the port and the beach.  Or should I say what had been the natural waterfront.  Oh, my my… did someone impact that coastline.  Billions of tons of cement have been brought in and the beautiful coast is encased in cement.  Lined with various souvenir shops selling cheap things for very, very high prices.  A pair of rubber no-name flip-flops were $40 US dollars.  Hello.  Our lunch which we had sitting on a massive cement walkway next to the water cost $100 US dollars.  It was ok. 
Someone built a grand auditorium not just next to the water, but actually impeding over the water.  Where it clearly looks like it doesn't belong.  Why try and cover up beautiful nature?  The "waterfront" walkway, which runs through the auditorium has cold, impersonal massive square pillars holding up more ugly weight with empty concrete on both sides.  Not nice.  An older local lady on the bus who was going to pick up her grandchildren from school commented that they've ruined the natural beauty of Monaco.  I imagine a lot of people agree with her.  The city can't breathe- it's smothered in concrete. 
The Old Town surrounding the palace where Prince Albert lives has a sweet charm.  It almost felt like you were in a living fairytale, except that all the souvenir shops just feet from the palace selling ridiculous little boys' Grand Prix racing outfits snapped you back into reality.  Wonder why the Prince
would allow all of that nonsense to smudge the beautiful stone streets and ornate antique buildings that permeate original Old World character?  Who knows?  Maybe he figured even the subjects need to make a living. 
But sitting on the high cliff-like hilltop surrounded by the old cannons and metal balls it's easy to be taken back in time when protection of the city was of primary importance.  That prime, high location, surrounded by the sea has allowed this little area to remain an independent country for almost 800 years.  Experiencing that sense of history and taking in the fabulous panoramic vertical and horizontal views of the city sweeping around the sea is truly breath-taking.  In spite of the overindulgence in cement and tacky souvenir shops.
Ventimiglia-
Bustling, easy Ventimiglia!  The waiters in restaurants are mostly older men
that are probably family or friends of the owners from years and years and are just as close.  There's a caring in everything.  They care that you get a seat, the market people care that you get exactly what you want, the busy city cares that you feel at home.  When you go to Ventimiglia you feel that you're having dinner at Uncle Vinnie's house with all of his loving, mildly-annoying brothers, sisters, aunts and uncles and cousins.  They're glad you're there and you feel it, even though they're involved in their own flurry of expressive activity.  Step inside the city and you know they think of you as family. 
We brought back lots of things from their huge Friday market- Italian shoes,
cashmere and silk scarves, shirts made in Italy, costume jewelry, but what ranks up there as one of the best is the bag of pasta we bought at a little wine and chocolate shop.  Carole made a fabulous dinner on their last night here with some sort of thinly sliced ham she bought from the Antibes market, and garlic, cream, pesto, parmesan cheese from the market (freshly-grated by Bob) and the Italian pasta.  We couldn't stop eating it.  And along
with our wonderful $3.00 wine (for the bottle that is) it was a meal fit for royalty.  That pasta had the best flavor- it tasted liked freshly-made pasta and it brought Ventimiglia to dinner.  We had some of the dinner left, which I had the next day for lunch.  Yum!  Just as good as the night before.  And then I still had some of the plain pasta that she had cooked.  I made this little dish for dinner of broccoli sautéed in olive oil with garlic, tomatoes, crème sauce and that wonderful pasta.  Sprinkled with the fresh parmesan.  I had it with a glass of Perrier (it's ridiculously inexpensive here) and a slice of lime.  What an amazing dinner!  And of course Kinder chocolates for dessert. 
Renoir museum and Cagnes-sur-Mer-
Every musee (museum) should be like the Renoir musee in Cagnes-sur-Mer! 
This is actually Pierre's very own house, where he spent his last 12 years.  He had this heavenly place built in the rolling hills between Antibes and Nice with a gentle view of the Mediterranean a few miles beyond.  Breath-taking.  His house is furnished with many of his own things- his bed, his wheelchair, his studio couches seen in his paintings, sofas, chairs, wardrobes, dressers.  And his to-die-for bathroom with original fixtures.  Very modern for the early 1900's.  It almost feels like you're visiting him and his wife Aline and they're ready to walk in and apologize for being late.    His paintings hang on the walls all around, along with his close friends' sculptures and paintings.  His hands were so crippled with arthritis in his later years that he had to have a friend manifest what he saw in his mind's eye.  His studio looks like he just stepped out for lunch, and in fact he painted the morning of the day he died.  It's all so personal and quite touching. 
I can't figure out why Aline had her own house.  The main home sits surrounded by his pleasant gardens and olive trees and there, just a few steps down a path is a smaller home.  What really made this interesting is that she had the best room by far in the main house as her bedroom.  He had his bedroom and she had hers and what a room she had!   An expansive floor-to-ceiling eyebrow shaped glass window that opened to the unbelievably beautiful view of the rolling hills touching the sea.  His room had a smaller window.  Nice but not like hers.  The little bit of history given explaining some of the possessions portrayed a friendly marriage.  Maybe she was just a gal who knew what she wanted and made it happen.  Or maybe she got tired of all his friends traipsing in and out and coming to stay and told him to build her her own place if he knew what was good for him.  I can't figure it out.  But she definitely had a husband that appeared to value her and three sons that admired their parents enough to protect the family's belongings and give everything back so the rest of us could vicariously spend a day with the Renoirs.
Cagnes-sur-Mer is a town that feels made up of residents, not tourists- but I'm sure it's crowded in the summer.   Look how clear the Mediterranean is!  Typical rocky beach, however. 
St Paul-de-Vence-
Carole loved it, to Bob and me it felt like we were in Disney World.  A perfectly portrayed Old World village sitting atop a picturesque hill makes this one of the most famous villages in France.  And everyone has found out about it and come to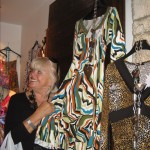 visit, including all the artists and store owners who have set up shop there.  Although I did find a wonderful little women's shop that had beautiful blouses for $10 Euros, and incredibly low-priced, unique bracelets and necklaces.  I bought Christine and Erin a top (now the surprise is ruined!)
and myself a couple tops.  Carole bought a lot of things and went back and forth all day long on whether to buy Maude a $15 dress- she just wasn't sure if she'd like it.  In the end she didn't, but kept thinking about it, long after we were home.  So much so that I'm still expecting her call to have me get my fat ass back on the bus, go up the hill and into the old walled city to buy the dress.  We'll see.  She's going to be sorry she doesn't have it at Christmas time. 
Nice-
We had to do Nice.  Nice is France's 5th largest city and it feels like it.  It's
big, bustling, busy, impersonal, but Nice!  Filled with all the character one would expect and a splendid Old Town.  As happens often in the south of France, we were surprised by an unexpected performance.  On the day we were there, in the middle of crowded Old Town's Place Rossetti Square there was an Elvis Presley impersonator on stage singing and doing quite a nice job!  We had gelato standing next to the Cathedral of St. Reparate, a baroque-styled church from the 1500's beautifully decorated inside and out with
fresh flowers which may have come from that day's busy flower market.  While listening to Elvis singing "My Way".  I love this place.
Well, thanks Carole and Bob!  It was a fun, active week!  And I'm glad we got to celebrate Bob's birthday in the middle of it.  Happy Birthday, Bob!   By the way, it's always nice to get back to Antibes. 
And… CONGRATULATIONS TO MATT for his incredible marathon run last Sunday!  He qualified for Boston!