I went to Nice the other day.  I wanted to do two things.  I wanted to go into Esipuno's Boulanger, the baker that was voted to be the very best in all of France.  That was thirty years ago, but since the bakery passed from father to son I thought that it was probably still pretty good.  Not that I'd be able to tell the difference between the fabulous bread I've been eating here in the south of France over the last five weeks and the really fabulous bread, but I thought it'd be fun to see if it did taste any different at all.  By the way, I'm taking home a part of France when I go back to the states.  I have this nice roll of belly fat that wasn't there when I came… I guess it's the over-exuberance in experiencing my version of the best of France- the bread, croissants, sucre and du beurre crepes, Kinder chocolates (just polished off another box in a record two days), Cruvee rouge van (wine), and all of those smelly, tasty cheeses.  Not to mention the wonderful Italian-inspired pasta dishes.  Hmmm… that's alright, it's all part of the wonderful experience of "doing" the south of France.  I haven't had a scale to weigh myself which is something I do daily or actually morning and night at home, but I think I'm getting awfully close to that special mother number.  The weight a woman reaches at some point in her life that is the same weight as right before she gave birth to her first child.  Every mother knows the number and is flabbergasted when she reaches  it.   How could at one point it be a baby and all the extra liquid volume, and then years later just all be fat you're lugging around?  Well, I'll worry about that when I get home.  I only have a week left to enjoy France. 
The second thing I wanted to see in Nice was the Auer Patisserie, a pastry shop that has been there since 1820 and is still very much the same as it was then.  This shop has also passed from father to son according to what's written on the window, "Since 1820 from father to son" but I imagine if it's still in the family it must include some grand and great-grand children.  Otherwise, if the father opened the shop when he was 20 years old and had the son at 30, that would make the son somewhere around 179 years old.  That would be interesting, maybe I should concentrate on seeing the son instead of the pastries. 
I suggested on Sunday, Carole and Bob's last day here that we go to Nice so we could do these things.  Both are in Old Town Nice and I thought that would be fun since we hadn't taken the time to walk around Nice.  In fact, I hadn't been there since I wore those horrible clogs that put a huge blister on my big toe the day I went to the Matisse musee, and I was set on wearing the very most comfortable shoes I had.  We found Auer's Patisserie right as we entered Old Town.  Actually we walked right by it without realizing it because it was CLOSED!  Darn it!  All the way on the train, then the tram, then the walking
and it's closed on Sunday.  Darn, darn, darn.  The shop was dark but I could barely see inside and saw those French-styled dressers with the curved sides that I love with chocolate candies on top. 
We walked around some more to find the famous boulanger.  At one point Carole wanted to walk out of Old Town to see the beach and walk the promenade… I guess she didn't realize it was a walking tour I was leading.  So we took a detour but eventually I got her headed back in the right direction.  I found the bakery which was up a dark, skinny street.  Most of the shops were closed on Rue Droite (Straight Street) which made it seem even more isolated.  Other parts of Old Town were hopping… recall the unexpected Elvis concert I mentioned in Place Rossetti?  I'm sure Carole and Bob thought their tour guide was confused or lost.  Imagine that… moi?  Again,
walked right by it…   It wasn't a bustling place with wonderful smells floating out the door.  It was CLOSED with shades over the front windows so I couldn't even see inside!   I really wanted Carole, who loves French bread to get to taste it.  Darn it.  It was closed so tight with graffiti on the shades that it looked like they might be closed for good.  But I walked around the corner so I could see better and I guess they're still in business.   What a disappointment.  I had been planning on this. 
I couldn't let it go.  So after I dropped Carole and Bob off at the airport Monday morning (sounds like I had a car- I didn't- this was by train, bus and shuttle bus) I went back to Centre Nice again and then took the tram to Massena Place on the edge of Old Town.  I walked to where I remembered Auer's Patisserie to be.  I couldn't find it.  How could that be?  It was there yesterday.  Then I realized I was two blocks past where it should have been.  I walked back and right next to where I had just bought olive oil (a gift for someone who likes to cook vegetarian… No Meat Athlete, the Boston qualifier!) at A L'Olivier, a shop that has been making olive oil since 1820 was Auer's!  How could I miss it?  Because it was dark.  It was CLOSED!  NOOOOOO!  I looked in again and it looked dark and shut, just like yesterday.  There was a small sign on the door written in French, obviously, that said open Tuesday through Saturday and then the hours which showed that they're closed something like 12:30-2:30.  A lot of places do that in the south of France because of the heat in the summer.  Why didn't I read that the day before when I was there?  I was able to get this picture so I could
show you the inside of the shop.  It was so bright outside that I had to wait for someone to walk by and stand in just the right spot- otherwise you couldn't see anything but the outside reflection.  Bummer.  Queen Victoria used to go into this little patisserie and I wanted to do the same as she.  I'm a Victoria too!  Darn it. 
I walked to Rue Droite and towards Esipuno's boulanger.  It seemed closer this time, maybe because the shops were open and it didn't seem so by itself.  Or maybe because Carole didn't want to go in the opposite direction to see the Mediterranean- she was at the airport waiting to take off.  Wait… where is it?  I walked by it!  What's wrong with me?  What??? What the??? It's CLOSED!!!  NOOOOO.  How could it be closed too?  The only two shops I came all the way to Nice to see and both are closed.  It too had a tiny,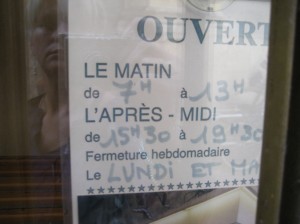 faded sign in the window (in French which is why they didn't pop out to me yesterday) stating that their hours were closed Lundi (Monday) and something.  I didn't feel like taking the time to figure out which days and which hours they were closed and open.  All I knew was that I was there on Sunday and they were closed, and now I was back on Monday and they were still closed.  I wasn't happy.  Fuck them and their stupid bread.  It couldn't be that much better anyway.  Darn it!  How could they BOTH be closed?  I tried twice to see them.  What a disappointment.  What if I never get back here again?  Next time I travel to France I'll probably be with someone and what if they don't want to traipse through Old Town Nice looking for a bakery and pastry shop when there are thousands of other good ones in the rest of France?  Darn it.
Oh well, I was in Nice on a beautiful day.  The sky was bright blue, the weather was warm with a slight, cool breeze.  I'd just walk around and find a nice place for breakfast.  I hadn't eaten anything yet.  We got up at 5:40 AM and left the house at 6:30 to get to the airport by 8:30 and now it was around 10:45 or so.  Perfect.  I was in the mood for something sweet- either a sucre and de beurre crepe or a croissant with honey or jam and a café.  I'm really starting to enjoy this French coffee every morning with my sweet pastry and I hadn't had any yet.  I found a cute little place- there were lots of choices- with outside seating on a busy square.  I sat down and the waitress came over.  "Avez-vous crepes?"  (Do you have crepes?) I asked with a nice smile?  I was looking forward to the experience.  What could be better- a wonderful French breakfast in this beautiful city on a bright, sunny, perfect-weather day. 
"Non." 
"Crepes?  Avez-vous crepes?"  She must not have understood me.  Everyone in Antibes has crepes and Nice is only 15 miles away. 
"Non."
 And I could tell I was already trying her patience.  She said two words and she already had that irritated French look on her face. 
"Vous avez croissants?" (Do you have croissants?).  I SEE people eating croissants, so I could tell whether she was just saying Non to everything or answering my questions. 
"Oui. Croissant." (Yes, croissant)
"Avec uh, um honey?  (With honey) I forgot the word for honey.
"Non." 
"Avec jam?"  (With jam?)  I forgot the word for jelly.  Jam was probably pretty close. 
"Non."  Aw, come on, now… everyone has jelly.  She could understand- she was pretending not to because I was taking up her precious time with getting my order right. 
"Jam, jelly".  I was reverting back to English which is what I seem to do when I get frustrated with the French not understanding me. 
"Non. Croissant."
"Vous-avez JELLY, JAM, JELLY."  Sometimes I just keep repeating it.  I don't know why- it never gets them to understand. 
"Non".  And she wasn't being pleasant. 
"D'accord.  Croissant"  (ok, croissant) I'd worry about the jelly when she gave me my croissant.  Then she would put two and two together… as in 'Oh, the American must want jelly for her stupid croissant.'
Along came the café… yum… looking good.  Then the croissant.  She put it in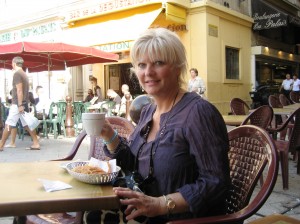 front of me.  Perfect.  I'll try again like it's the first time I ever mentioned it… "Avez-vous jam?" 
She looked at me in disbelief.  "NON!" 
Well, let's not get testy.  It's only 11 AM and you have a long day in front of you- better to stay pleasant with the customers. 
"Oh." was all I could say.
I was NOT in the mood for just a croissant.  For some reason, maybe because I had heard myself say 'jam' so many times I was in the mood for some really good jelly.  But I started eating the croissant.  Slowly.  It was missing jam.  I must not have the word right.  I wasn't going to let this pass.  She obviously just didn't understand and I didn't have my French/English dictionary.  I would ask the guy waiter.  He was inside behind the counter and I don't like leaving open drinks at a table.  I don't know what I'm afraid of… that someone's going to play a trick on me and drop something in my drink?  What a sign of paranoia that is, but I just don't like it.  And the coffee was really good so I wanted to drink it, but WITH my croissant and jelly.  I picked up my café and my basket with the partially eaten croissant and carried it into the shop.  The guy looked at me, startled.  Why was I carrying my meal into the restaurant?  Was there something wrong with a croissant and a cup of coffee? 
"Avez-vous jelly ou jam?
He looked at me and shook his head.  "Non".
Come on!  How could an outside café not have any fucking jelly!
I went back outside to my little table and sat down and continued my petit dejeuner (breakfast) which was not hitting the spot.  Maybe my craving for something sweet in the morning is too strong.  And then… I saw the sign in their window… LOOK AT THIS!  It clearly states on the third line of the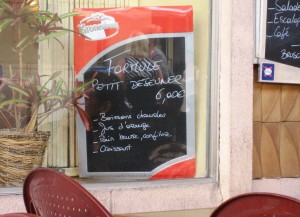 formule (menu suggestion) "pain, beurre, confiture" (bread, butter, confiture).  So THAT'S the word for jelly… confiture!  She should've understood what I wanted.  I got up with my café and croissant again, found the waitress and asked her to follow me.  I led her outside and pointed to the sign.  "Je voudrais de confiture, s'il vous plait."  (I would like some jelly, please).  Very friendly, with a smile.  I thought she would like that she finally understood what I was so focused on that I couldn't leave her alone. 
She looked at me and said, "Non". 
What the???
"Non.  Non confiture."
I had it.  Maybe they were just out of it, which didn't make sense… run to the grocery store and buy a jar so you have something to serve.  I finished the coffee, but not the whole croissant.  I wanted to save room for the breakfast I had in mind… a croissant WITH JELLY.
It only came to $2.60, so I wasn't that put out- just a little exasperated.  I left and walked around looking for the perfect place.  Then I saw an adorable little place- a café that looked like it was right out of the early 1800's.  Every table had a dainty, little 3-jar combo set… each filled with a different kind of jelly!  How lucky was I to stumble upon this adorable place! 
I sat down, ordered another café (I never drink two cups of coffee in the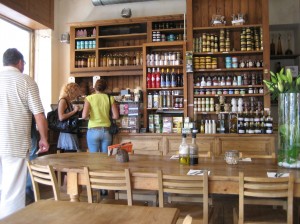 morning) and a croissant with jam from the waiter.  "Non".  Turns out I have to get some sort of combo breakfast.  A coffee AND juice (yuck- they don't go together) and a croissant.  No thanks, just the coffee and croissant.  Nope- no can do… the whole menu of coffee, juice and croissant OR coffee, juice and 3 kinds of assorted bread.  Or nothing.  $6.50 Euros.  That's almost $10 US dollars for a croissant and coffee???  A little steep, but I was REALLY in the mood for the croissant with jelly and now it was worth it.  Just bring me the damn coffee,  juice and croissant with jam.  Done.  I'll just swallow the ridiculously steep price and enjoy the breakfast. 
My cafe comes.  It's good.  The juice comes.  It's freshly squeezed and really good.  That's a nice surprise.  But now I'm floating and there are NO nice bathrooms in Nice.  I've used bathrooms in Nice before.  Hello… ou est moi croissant….?  (where is my croissant)?  Finally it comes.  In a cute basket.  But no jelly.  I just agreed to pay over $6 TO HAVE THE JELLY… where's the jelly? 
"Ou est the jelly?  Je ne il vas pas".  (Where is the jelly?  I don't see it.)  I say with a smile because now I know French and I can put two sentences together.  The waiter lets out a little squeal and then quickly tip-toes away to get it.  I wait and wait.  And wait.  Is he fucking squeezing the fruit?  Finally he brings the little 3-jar jelly combo to the table.  Wait a minute… it's all the same kind of jelly- 3 jars, same color jelly in each jar.  Not for $6 extra dollars, I don't think so.  I ask him for the set with 3 different flavors… and he turns and says something to a waitress.  And the 3-jar jelly combo is whisked away.  I wait.  And wait.  And wait for a really long time, looking at my croissant.  After a long time he comes over, no jelly and tells me that the jelly is only part of the menu offering the café, juice and three kinds of bread.  Jelly is not included with the café, juice and croissant menu.  Is he fucking kidding me?  I should've stopped while I had the 3 jars of the same jelly sitting in front of me.  The good news is, I can have it for an extra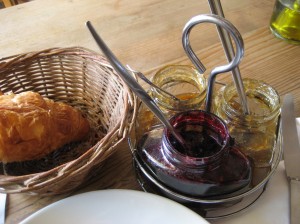 charge.  JUST BRING ME THE DAMN JELLY!!!  NOW!!!  "D'accord" (Ok)  I say.  I agree and now my appetite is starting to decrease with the price increase.  When is it no longer worth it?  How much am I paying to have a spoonful of jelly on my stupid croissant?  Finally the 3-jar combo set comes back.  All three the same.  I insist on different flavors.  I'm paying top dollar, I deserve different flavors.  The jelly combo gets whished away again.  I wait.  Back comes the combo set.  Two flavors the same, one different.  Good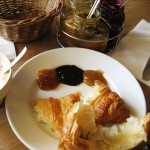 enough.  I eat my croissant with all three jellies, drink the cold café and don't enjoy it nearly as much as I wanted to.  Oh well. 
The best bakery in all of France was closed.  The patisserie that Queen Victoria frequented is closed.  It cost me many Euros to finally get a croissant with jelly.  And I only had a few hours sleep the night before on top of it.  I think I'll go back to Antibes.  It's always nice to get back to Antibes.